Life is fragile, and difficult
Today, I write with a heavy heart. A friend of mine named Dustin has a brother named Jeff, and 2 weeks ago Jeff and his wife Kaycie lost their 4 year old son Roc. No warnings, and he wasn't sick. He just didn't wake up. It wasn't until this week they learned that Roc had a massive renal tumor that took his life. I can't even begin to imagine losing a child. Thinking of my baby girl, or my 9 year old little man, it just breaks my heart. This is a picture of Roc.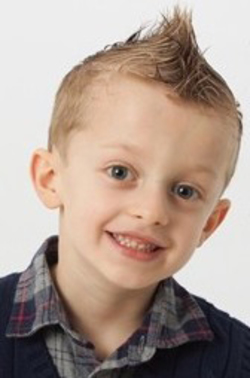 About a year and a half ago we were moving from one home to the next, when another guy I know bailed on helping me with the move from one home to the other. I was between a serious rock and a hard place, because I can't lift anything due to having serious back problems. I've already had one back surgery, and may need another this year. Well, my other friend who was helping us to move only had 2-3 hours to do it, and when the other guy didn't show, he had to leave… I was befuddled.
I lived in this city 10 years prior, but it was before I was a Christian. Most of the people I used to hang out with went different paths from me, and I lost touch with them. When my wife and I moved back here, we didn't know a lot of people. However, I knew Dustin from his wife Melissa, and coaching their daughter in YMCA baseball. I was desperate, and aside from baseball had never really known Dustin all that well or gone and hung out with him aside from kids birthday parties or sports stuff, playing in a fantasy football league with him, and being a Facebook friend. However, he was a contact in my cell phone.
So, I called him and explained my plight, asking if there was aaaaaaaaanyway he could help, and offered to pay him cash. I also asked if there was aaaaaaanyone he *might* know who could help out. He said his brother Jeff was in town from Texas, and that they would gladly help, and that they wouldn't take my money. Those 2 guys spent between 3 and 4 hours lifting the most absurdly heavy stuff you can imagine into our rental truck, and unloaded it all into our new house. His brother Jeff is the young man who lost his son, Roc.
That is the type of guys, and type of family this is. They are strong Christians. They love God, they love Jesus, they go to church on Sundays. They have hearts of giving and sacrifice. Today would have been Roc's 5th birthday.
Roc loved balloons, and the family released hundreds of blue balloons into the sky in Roc's honor at his funeral a week ago. Last week they started a Facebook page asking people to help them remember Roc on his 5th birthday. Today my wife, myself, and our baby girl went and released a bunch of balloons in Roc's honor, and taped to one of the balloons was a note that we wrote. This is a screenshot of that note: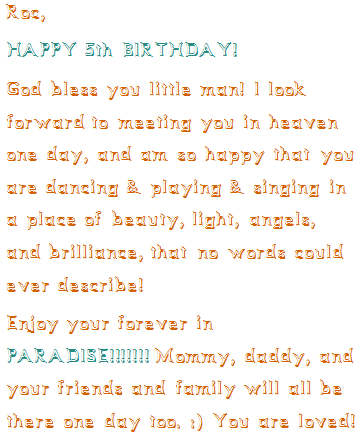 Per their request, we took pictures of our balloon release, and got some gorgeous pictures of the balloons rising over the river, into the sky, with the orange colors of the setting sun in the horizon, until the balloons became but a speck in the sky. Our pictures were but one of many from friends and family that reside anywhere from South Korea, to Alaska, to Texas, Washington, California, and more.
It is so easy to get caught up in the frustrations of our life. Perhaps our failures in Internet marketing. Our difficulty to make a buck or pay a bill. Our argument with our husband, or wife. Our kids who do something stupid or who won't stop screaming.

However, sometimes it is good to stop for a moment and take stock of the beauty we have in our lives. To be thankful for our husband or wife. To stop feeling tired or frustrated about work, or the kids screaming all day, and quite simply thank the almighty God for those people that we love. To thank Jesus for the cross, for the blood, for God's grace. Nobody knows their time to leave this earth, and that is you and I included.
As Christians, we carry and share the greatest gift that man has ever known. As heartbroken as they might be, Jeff and Kaycie will spend the rest of their days on this earth missing their little boy, but more importantly, as Christians they can also celebrate his passing for the rest of their time here. Because under the blood of Jesus, they know, they undoubtedly, unequivocally and without question know that one day they will all be together again in paradise.
We can never know why an innocent, and beautiful child is taken from this earth with such suddenness. All we can do is know, absolutely know that God has a plan. God is bigger than us, and He is always in control. Best of all, under His grace we will get to see those that we love again, in a place that is so perfect and unimaginably paradisiacal (of, or relating to paradise) that the pain of this life was worth the cost.

Whatever day it is that you happened to decide to stop and read this, just stop for a moment. Stop and appreciate those that you love. Stop and consider how small or petty many of things you might be fretting, just may be. Take stock of the important things in your life, and thank God for his grace. Thank the Lord that we have Jesus, and that the Holy Spirit resides inside of us, and that one day we also will live in paradise with everyone that we love. Bend down and kiss your kids one extra time tonight, and squeeze them just a little bit tighter during that goodnight hug. That goes for your spouse too.
Life is fragile. Life is short. Life is difficult. But life is also precious, and beautiful. Thank you, Jesus.

He will wipe away every tear from their eyes, and death shall be no more, neither shall there be mourning, nor crying, nor pain anymore, for the former things have passed away. Rev. 21:4
For God so loved the world, that he gave his only Son, that whoever believes in him should not perish but have eternal life. John 3:16
Thank God, and praise Jesus for our undeserved gift, and our entry into heaven… where we will reside in paradise forever!