Free Membership and Affiliate Sign-up
Get ME for free now!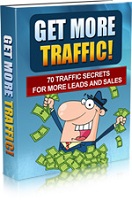 If you are interested in receiving absolutely free PLR and resell rights products a few times a month (and yes, oftentimes more), please sign up for our free membership! We will give you access to books, tutorials, videos, tips and hints, as well as Christ-centered pointers and encouragement regarding your Internet marketing endeavors and online prosperity. You will not have access to our thousands of products, nor our forum, our blogs and tutorials, nor theChristiandude's thoroughly in-depth tutorial to getting started in Internet marketing, but hey, it's a start! 

Not to mention, once you become a free member, you are automatically signed up as an affiliate of our site. What does that mean exactly? It means you can promote our site and make at least 50% of every sale that you refer to us! Not only that, but you are paid residuals which is an absolute rarity in the world of affiliate marketing. Sell someone on our site once, and get paid for months, and even years. Regardless, to become one of our affiliates, you need to sign up for a free membership. Quite simply, that is how you become our affiliate. Once you become a free member, you will automatically be enrolled into our affiliate program and be able to begin promoting our site or products for your own prosperity! To learn more about our affiliate program, click here.

Don't know how to promote our site? Well, don't worry! Why, you ask?
Well, because we teach you how to reap massive prosperity promoting other people's websites, whether it is promoting our site or someone else's. We even have products to teach you how to create your own products and online store fronts. So even if you're not there right now, you'll be ready to take that leap soon, we're sure of it. In the meantime, let us share some free stuff with you and simply warm you up to this whole Internet marketing prosperity thing, risk-free and without any commitments. Does that sound fair?

If you are already a free member (or paid member, for that matter), click here to go to the log-in page.
If you would like to sign up for free membership to receive your affiliate links to begin promoting theChristiandude suite of products today, simply fill out the form below!
Good luck, and God bless you!
NEW MEMBERS-TO-BE: As you may know, Aweber was recently cyber-attacked . Thus, for some reason, our form below seems to be doing some funky things, and we do have a request in to Aweber to get it resolved. In the meantime, PLEASE sign-up with the form. You *might* get an error message saying "you need to fill out ALL fields". Well, for whatever reason, when that happens you are STILL being signed up for Free Membership. How can you test this? After filling it out, click the "back" button of your browser and re-send the form… it will then say, "You have already subscribed!" Then you know you are good to go. 🙂 Sorry for the inconvenience, but we will have this fixed soon! Thank you!
Remember, once you sign up you will receive your first product for free! Which is, Get More Traffic, with Master Resell Rights! See below…