Welcome to The Plan of Attack!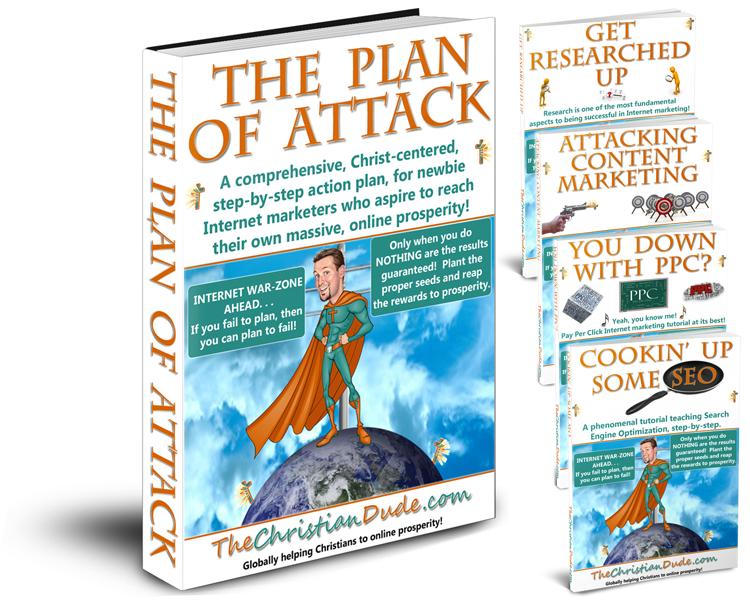 Want to learn more about our Christ-centered, comprehensive, step-by-step, 30 day action plan & tutorial to online prosperity?
Please read on, below!
_______________________
So what is The Plan of Attack?
Great question! We knew you were a smart one. 

  The Plan of Attack is one-of-a-kind, in-depth tutorial for brand-spanking new Internet marketer wannabe's from a Christ-centered perspective. It says right on our cover, "If you fail to plan, then you can plan to fail", and nowhere is that more true than from the perspective of aspiring Internet marketers! You absolutely must have a "plan of attack" to have a chance, let alone succeed in Internet marketing. Did you know that 95% of all Internet marketers fail? Well,  this action-based tutorial launches you and your Christian home business off on the right foot.

Keep in mind that this step-by-step guide can either teach you how to market, promote, and drive traffic to your own website, ministry, music, or product, or begin your road to online prosperity and starting your own Christian home business and Christian work from home opportunity. It is up to you to determine how you will use our materials!
Companies all over the world, from Sears, to Amazon, to Esprit clothing, and multitudes of other companies that you know, actually pay you to promote their products online! This is even more true in the world of "e-products", digital downloads, and similarly. Companies such as Paydotcom.com and Clickbank.com have thousands of vendors whom recruit "affiliates" to market their products for them on a massive scale.
That is what The Plan of Attack is about, is teaching you how to prosper from affiliate marketing… and most importantly, from a uniquely Christ-centered perspective. Christian approaches to doing business give you the best chance at starting your own, thriving, Christian home business or Christian work from home opportunity.

This technologically-driven day and age in which we live has basically turned the world into a global marketplace, and this of course is in large part due to the advent of the Internet. 25 years ago, "work from home" meant a guy who had a repair shop of some sort in his garage, or the rise of network and multi-level marketing such as Amway. Only since the Internet has arrived, have true work-from-home opportunities arisen. Only by prospering from online endeavors can someone truly stay-at-home, never leave, and create wealth from the comforts of their own home. It is truly an amazing thing!
Internet marketing is my sole income. I have no other job, I am a full time Internet marketer. It took me years to get to this point, and I praise God for His blessing's in this. I have to say though, I wish I had a guide like this when I got started! I have spent more money on products, tutorials, and yes, way too many of those, "Learn my super, ultra, amazingly fantastic secret to how I made $10,000 overnight!!!" than I care to admit. Unfortunately, you end up with hype and fluff, versus substance and reality, or a legitimate Christian home business opportunity for that matter.

There are a few things I have learned through all of this. One, is that Internet marketing is not easy. You see, it's simple, but it's not easy because you do have to work at it. Two, there is no such thing as "get rich quick"! Can you make $5,000 or more in your first 60 days? Yes, that is absolutely possible. Likely? No, it's not likely because most will not commit the proper time… but if you are one of the rare few who will commit to this process, diligently work at it 8 hours a day, and literally work your tail off, it is 100% possible! A third thing that I've also taken note of is that there is absolutely none, zero, nada, zilch, in the way of Christ-centered products for Internet marketing!

Further, one thing that is beautiful about Internet marketing, is that once you set in place a successful marketing campaign, you can essentially "set it and forget it" and make residual, recurring income! Find a successful campaign? Excellent! Now, you begin building your next campaign. And then the next… and then the next…  and then…  Once you learn how to do this, your prosperity is a beautiful, inevitable, and growing thing! So, Christian work-from-home opportunities may be rare, but we are working to change that!

One of the biggest obstacle's that aspiring Internet marketers face is not knowing where to start, and not knowing how to get from point A to point B, then from point B to point C, until eventually reaching point Z of recurring and perpetual prosperity. If you have no action plan and no definitive item-by-item task list to follow on the road to success, you will get spun in 20 different directions, and one day you will quit like 95% of most people who "try" Internet marketing!
If you don't quit but still trudge along with no plan, you will elongate your pattern of success from being 7 days to 7 months, or from 45 days to a year and a half. Is it valuable enough for you to take the first step towards your own Christian work from home business?

If you desire an action plan that is proven, tried, and true, that also comes from a Godly perspective involving belief in Him and the idea that He is in all aspects of our lives big and small, and you are willing to put into motion the exact plan and tools I use every day (and most importantly, are willing to put in the time), you too can and will prosper to whatever goals you set and aspire to! Truly, $600 a month or 6 figures a year is possible! You simply need to start down the right path.
Companies of all sizes, all over the world, are paying "regular folk" just like you to market their products for them on the Internet. TheChristianDude included! (Check out our affiliate program here to learn more.) Whether you're looking for a Christian affiliate program, or a Christian home business opportunity, we have got you covered.

You see, I have been there and done that. I have had success and failures. I have been spun in those 20 different directions! In my book, I share with you from a task-oriented, Christ-centered perspective, exactly how you can (and will) legitimately make money online as a Christian working from home.
It does not matter if you have no idea where to start. That is what our book and accompanying tutorials are for! We will put you on the path to taking you from point A to point Z, by planting the proper seeds to prosperity from day 1… including the necessity, belief, and action of both prayer and receiving Godly support.
The accompanying tutorials shown above are included with The Plan of Attack, and you have everything you need to begin your online career today. The question is, will you act? This could be the most important economic decision you make this week, if not the most important decision you make this year! We hate hyperbole as much as the next person, but we truly believe this step-by-step guide to your own Christian home business is superb.

For only $59, you can begin your path to Internet prosperity! This is strictly a one-time fee, and there are no recurring charges of any kind. Don't keep doing what you've always done and expect a different result, instead commit to step 1 of your Christian home business opportunity!

If you are willing to bless us with the chance to serve you, we will not disappoint. We hope you give us a chance. Regardless of what you decide, our prayer is that whatever endeavor you pursue, that God will bless you WILDLY!
Buy The Plan of Attack right now for $59, start your own Christian work-from-home, Christian home based business by simply clicking on the 'Buy Now' button, below. 

Thank you so much, and again and always, GOD BLESS YOU in ALL your endeavors!